Play more Crosswords games
Welcome to a musical guessing game based on Wordle is called BTS Heardle. You have seven tries to correctly guess a BTS song title, and you will receive feedback on how many letters are correct and in the proper order. You can also hear a song preview that gets longer with each correct answer. Any of their songs, whether from albums or singles, can be played. Since this game is updated every day, you won't ever get bored.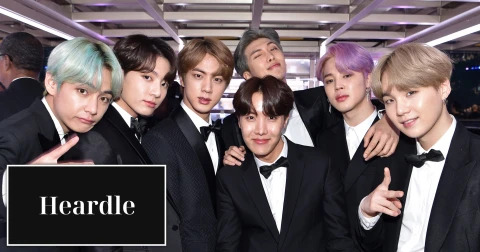 More Information About BTS Heardle
It was made by the @BTSChartData fan account, who also made BTS Wordle. The creator collaborated with @DoolSetBangtan, a dependable translation fan account, to produce the lyric hints used in the new game.

Each day, it displays the lyrics to a different song by the boy band, and players are given seven chances to select the right option from a drop-down menu. A brief clip of the song is played if you don't correctly guess the song based solely on the lyrics on your first try; the clip lengthens with each wrong answer.

When the answer is revealed, the game prompts you to listen to the song on Spotify and post your results on social media. On Twitter, where "BTS Heardle" trends globally, members of the group's ARMY fanbase have already started sharing their love for the game and their scores — with many of them earning perfect marks.

Both the original Korean lyrics and their English translations are included in the game, which tests the band fans' band knowledge. Any of their songs from their albums or singles are available for playing.
How To Play
You have up to 7 chances to guess the BTS song of the day.

You are only allowed to use the lyrics as a clue for the first guess.

After the try, you can start listening to the music.

Additional snippets are revealed by missed or unsuccessful attempts..

Answer as fast as you can and share your statistics.
Related Games with BTS Heardle
If you are fond of BTS Heardle in Wordle series and want to challenge in other games, here are some examples: